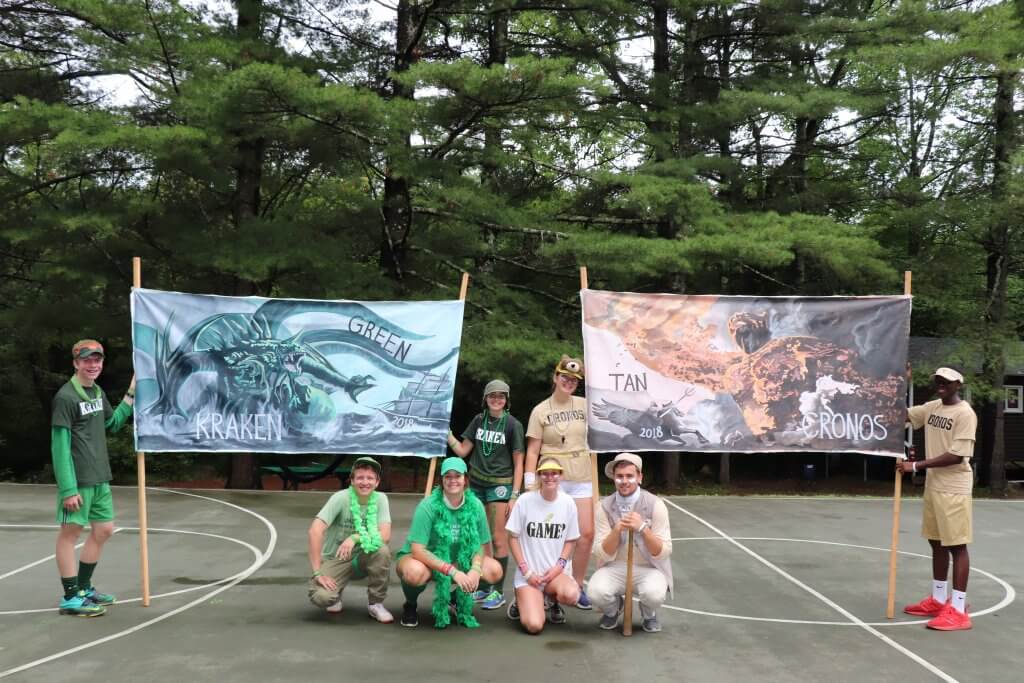 In a camp, far far away, campers loved Week 6 of Watitoh!!
With the majority of our Intercamps and trips behind us, the typical camp program was in high gear. From waterfront to hobbies to a mix of rainy day activities, Olympiad was in the air! Fake breaks filled the time while "1-2-3-4, we want Color War" sang from the Mess Hall.
Monday night was our final Sports-a-Rama competition. Stay tuned for this year's winner to be announced later this week!
Tuesday night, our Waiters made history, by being the first Waiter team since 2006 to beat the counselors in Watitoh Gardens!! Campers and staff all made banners and posters to support their team while the Shawnee boys got treated to snack on their porch (thanks to their Auction Night purchase!) The TICS entertained us with a dance for the half time show and the entire camp charged the court the minute the Waiters won! It was a fantastic celebration for all! A huge shout out to the Waiter team for their amazing win and a congrats to the staff for all of their effort.
Wednesday was the annual "Watitoh Downs" where campers and staff act like horses and race around the Social Hall. Everyone bets on their favorite horses and the evening came to an end with a surprise fake break out for Olympiad.
Thursday our boys had their fan favorite "Hunt the Counselor!" It was an intense evening of searching for the staff in hiding and in the end, Nature and Science Specialist, Austin Byrn, came out on top!
Friday we brought back and oldie but goodie evening activity, "The Dating Game!" Old timer campers and staff were so happy to see it return. In the middle of the program, the lights went dark, and a voice came over the room, "In a camp, far far away, an impending battle is about to ensue. The citizens of Watitoh begin to form alliances. The teams of Green and Tan have already been decided and your generals chosen. It is up to you to pursue your destiny and fight for the Green and Tan. Citizens, you must now follow Darth Vader to begin the battle. "
Darth Vader then led all of camp onto the oval where a battle begin between all of our favorite Star Wars characters. Chewbacca, Han Solo, Yoda, Princess Leia, Stormtroopers, and BB8 were all beat by the Green and Tan Jedi who called upon the Generals to help decide who would ultimately win! Egad this is Olympiad appeared and the papers were thrown.
For the last three days camp has been turned upside down…land sports, swim meets, climbing competitions, banner making contests, chess tournaments, and SING practices have taken over Watitoh. Leading the Green Kraken are camper Generals: Maddy Rubin and Jacob Marsh and Chiefs of Staff: Marissa Elam and Evan Stevenson. Leading Tan Cronos are camper Generals, Abigail Brown and David Akinsanya and Chiefs of Staff: Callan O'Hearn and Melissa Ader. These are such well deserving campers and staff who have made a tremendous impact these past few days. We are proud of each and every one of our competitors and can't wait to see the outcome of the Apache Relay, the camper Banner Competition, and the SING. A huge thank you to Art Director, Erin Wheary, for her tremendous presentation of both Color War banners. She is talented beyond words…
The final week of camp is upon us and with that we have the Six Flags Trip, Memory Lane, CFL Day, Decathalons, Banquet, High School Musical, the Scroll, and Candle Boats!! So much more to do before the end of summer and with each passing day that bittersweet feeling overcomes us that we are looking forward to seeing our families and friends and will dearly miss our summer home!