Living the dream of eating well and being healthy!
Whether a camper dreams of eating our famous "Wato" burgers, or dreams of loud cheering and singing in our spirited Dining Hall, great food, health, and safety are our priorities.
The entire camp eats meals together, a great way of creating close community and family. Sitting with bunkmates and counselors, campers are served family-style by our camper waiters, our oldest boys – a special tradition at Watitoh.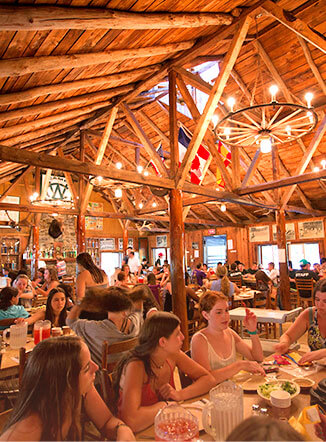 It is our practice at Watitoh to serve high quality, healthy meals.
If a camper does not like what's being served, he or she has several other options at each meal.
Because our food is prepared from scratch in our own kitchen, our experienced chef controls the ingredients used to better offer healthier options and accommodate campers with food allergies and dietary restrictions.  For specific concerns, please contact us.
We do not serve or cook with any peanut or nut products.
Our in-house baker makes all rolls, buns, breads and desserts.
Fresh fruits and salads are served every day.
Homemade soups are served daily at lunch
Our Infirmary is overseen by two Registered Nurses who live in our air-conditioned infirmary full time.  A local doctor, who has been part of our Watitoh team for many years, is on call 24/7. We are located 15 miles from Berkshire Medical Center, and the Becket Emergency Medical Squad is minutes away.