Meet the Dream Team
Britton and Drew Bitterman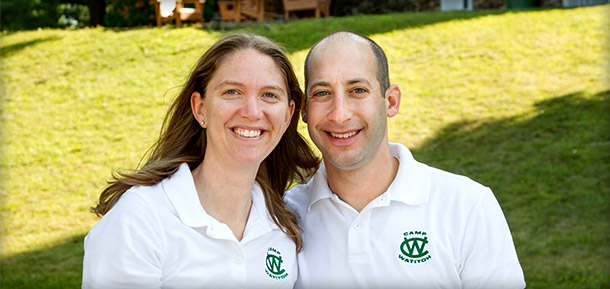 Britton and Drew Bitterman have always lived the dream of camp. They have dedicated their career to the development of children and staff within the sleep-away camp tradition. They are deeply and enthusiastically committed to upholding the positive value system and sense of community that have been the heart of Watitoh for many generations.
Drew, a Watitoh alum, attended camp for 13 consecutive summers from 1986-1998. Drew was a camper, waiter, counselor, and group leader. Watitoh campers and staff remember Drew's wacky Color War score updates during the late 90's, and his grand performances on the social hall stage. After graduating Muhlenberg College and majoring in Business, Drew worked with an event marketing company, only to realize that creating the moments that make up a great summer camp experience was his true passion. Drew has been full-time in camping since 2001.
Britton, with a similar story, spent 11 years at camp as a camper, counselor, and Division Head. After graduating from Duke University with a degree in History and her teaching certification, she taught elementary school for five years in a suburb of Washington DC. During that time she earned a Master's Degree in Educational Administration from The George Washington University. Experienced in child development and school leadership, Britton went in pursuit of her lifelong dream– becoming a camp director. Britton has been full-time in camping since 2005.
Both Britton and Drew are active members of the American Camp Association. Drew is on the Tri-State Camp Conference Committee and is a Standards Visitor.
Britton served on the Emerging Professionals in Camping (EPIC) Committee and together they are the Chairs of the Joe Kruger Youth Development Conference.
Britton and Drew live in Maplewood, NJ and are the proud parents of future campers Shane and Helen.
Billy Hoch (Director Emeritus)
Billy Hoch has lived the Watitoh dream his entire life. Born on Visiting Day and raised in camp, Billy has been the year-round director of Watitoh since 1989. Billy has spent nearly every summer of his life at camp – first as a camper, and then as a counselor, Boys Head Counselor, and Program Director.
A graduate of Franklin & Marshall College and the Benjamin N. Cardozo School of Law, Billy served as an Assistant District Attorney in Bronx, NY before returning to camp as a full-time career.
Billy is President of the Western Massachusetts Camp Directors Association and a member of the Board of Directors of the American Camp Association of New York and New Jersey. His wife, Debbie, and son, Joshua, visit camp during many of our rich traditions like Birthday Banquet, Sing, Olympiad, and Memory Lane.
Dream Team Staff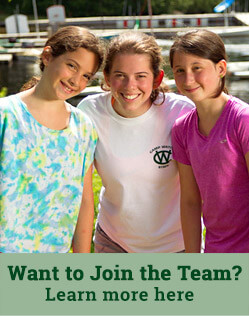 We have separate campus areas for boys and girls, each guided and supervised by dedicated professionals. Head counselors and leadership staff are full-time teachers and coaches who bring to camp a wealth of child-related experience and whose job it is to provide the best possible camp experience for each individual camper.
Our dedicated, enthusiastic counselors are selected because they love kids, they love camp, and they embody the Watitoh spirit. College-aged and graduate students come from all over the country and all over the world to share their experiences and dedicate themselves as role models for their campers. They are trained to provide a safe, fun-filled summer where each camper feels confident, included, and inspired to "Live the Watitoh dream."
Each cabin has two or three counselors, at least one of whom travels with the bunk to daily activities. Each program area has skilled specialists who are able to offer our campers quality instruction, encouragement , and lots of fun. It is no surprise that our Watitoh staff return year after year and many have been campers themselves.