It has been the most beautiful opening week of the 2019 camp season! We could not have been luckier with the weather and are happy to report happy, smiling, spirited, and adjusted campers who are active and enjoying their summer home.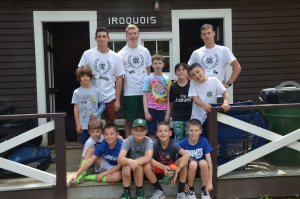 Opening Day was a huge success! The bus ride, car drop-offs, and plane arrivals all went smoothly. The afternoon was spent unpacking, lice checks, getting-to-know you games, and an awesome Opening Campfire! Campers settled into their bunks for a good night sleep ready to wake up the next day for the first official day of Watitoh!
Sunday was immediately into normal activities: soccer, tennis, swimming tag tests, more lice checks, and our favorite camp meal, Turkey Dinner, was served. The kids all got to pick their first week hobby choice. Sunday night was separate Boys and Girls Camp traditional activities. The girls did Bunk Chase and the boys did Superstars! Bunk Chase is an awesome ice breaker night for the girls. Each bunk gets to dress up and act out different ridiculous scenarios. What makes it the most fun is that they have to sprint back and forth from the gym to their cabin to change into crazy costumes and switch out people. The night ends in all of the bunks writing and performing a song all about their group! Superstars is when we put our male counselors to the test. Campers wager on counselor showdowns in various camp events like: gaga ball, milk chugging, a mini-Iron man, half court shots, and rock-paper-scissors!
Monday was the most gorgeous day…instructional waterfront began for both boys and girls and our Cooking Hobby made a trip to a local farm to shop for their week's ingredients. It was awesome to walk around and see all of our specialists in action and our kids settling into the camp routine. Monday night was Hi Guy and Hi Gal…a camp tradition of introducing your counselors to camp and the counselors introducing the campers. Girls camp moved this tradition to the campfire site and ended the evening with s'mores. Boys camp loved the new addition of bunk challenges where the Hopi boys beat their counselors, forcing the counselors to do swim instruction the next day!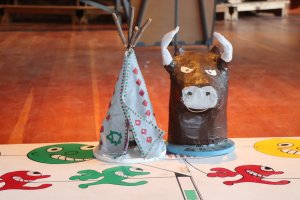 Tuesday we experienced our first rainy day of the summer. But no problem around here…activities kept going! Indoor paddle tennis, human tic-tac-toe, games of Ships and Sailors, dodgeball, noodle hockey, and more filled all of our indoor spaces. By last period, the sun was out and the boys were able to swim! That night was our first Townsend Cup competition of the summer! A Boys Camp vs. Girls Camp game show night competition, this was Cranium, the first of three evening activities. It was such a close game that our night didn't end until after 9:30pm! The energy in the Social Hall was unbelievable…cheers, chants, and comradery were the theme of the night! Girls camp took the win for the first game of the 2019 Townsend Cup. Stay tuned for Cabin Feud happening after Visiting Day!
Wednesday night we had our first Sports-a-Rama, a summer-long intramural league. The camp is split into four teams: the Columbia Rams, the Leeds Beckett Panthers, the Leicester Lords and Laddies, and the Ozark Dukes. Every field on camp was busy with friendly competition and good sportsmanship! A huge shout out to our Head Coaches and Saralyn, our Athletic Director, for a strong opening night to the season.
Thursday was our first day of golf lessons for those who enrolled. They loved going to the Cranwell for their lesson. The night was spent doing separate Boys and Girls camp activities. The Boys played Hunger Games. They were all divided into 12 teams with the goal of scoring points while protecting y
our "region." Congrats to the "Red team" for their performance! Girls camp introduced "Watitoh Survivor." Divided onto teams, similar to the boys, the girls competed in mini-apache relays! Congrats to the "animal team" for winning. It was a great new event! To put it mildly, they all slept well after running around for their entire evening programs!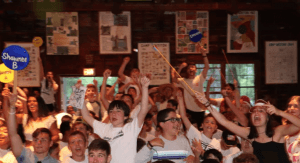 Friday was the kick-off to our Intercamp season. B8 Basketball and G8 Soccer really showed up for their respective tournaments at Taconic. We were really proud of their efforts and they finished great! It was also the start to our Horseback Riding program. Our Middies had an awesome trip to the Norman Rockwell Museum and enjoyed ice cream at Lucky's. We had our first Shabbat dinner followed by an awesome Auction Night! Each bunk was given $100,000 in Watitoh money and had the chance to bid on some great prizes. Brad Pitt and Whoopi Goldberg showed up to host! Some of the highlights were: an overnight in the Cooking Cottage, a seat on Shawnee Porch for Watitoh Gardens, renaming an area of camp (our weight room is now called "The Pump House!"), tubing during Rest Hour, and so much more. Every bunk won a prize and we can't wait to fulfill their winnings!
Saturday was another gorgeous day on Center Lake! Our Junior girls spent the day visiting Williamstown. They toured the Clark Museum, had lunch and ice cream in town, and got to explore.
Tonight is our Camper Talent Show where we have more than 15 unique acts. It's going to be a night where our campers get to share their amazing talents.
We could not have been happier with the week that has gone by and can't wait for what's to come. We have so much to look forward to: Big Sister/Little Sisters and Big Brother/Little Brothers, our Sports-a-Rama Apache Relay, a new evening activity called Silent DJ, Boys Belly Flop and Girls Hunt the Counselor. There are so many more trips and Intercamps in the weeks ahead and we can't wait to share it all with you through photos on myWatitoh and letters home.
Have a great week!!