It was a fantastic opening week and we are thrilled to report that the sun is shining on Center Lake! The days were filled with many "firsts": First Wato-burgers, First Intercamp, First Rainy Day, First Sports-a-Rama, First Camp Watitoh Salad Bar, and more…!
Our Opening Campfire last Saturday night was a great introduction to who our specialists are and a nice reprise of SING songs and the musicals from last summer. It ended with a flash mob, organized by our Dance Specialist, Alexa, and performed by the entire staff.
Sunday was a bit wet but we managed to get through some of our swim assessments and lots of team-building and getting-to-know you games. Sunday night was Hi Guy and Hi Gal, a camp favorite when the counselors introduce the campers in their cabin to the rest of the campus and then the campers introduce their counselors. It's always one of the boys and girls camp separate activities remembered.
Monday was our first program day where we got to try out all of the activities that camp offers. It was amazing to see all of the specialists in action and the campers engaged in land sports, arts and crafts, adventure, waterfront, and more! Monday night was Britton's favorite, Bunk Chase, on girls side, a high energy race to act out different skits and dress up like people on camp and beyond. The night ends with the reveal of the Spirit Stick, a long-standing tradition that is awarded to a group each week for modeling great spirit and role modeling being "Watitoh's Girls." The boys enjoyed Superstars, where counselors compete against each other in fun, crazy activities and the campers get to choose who will win. From the waterfront to the hockey nets, from the half court line to the gaga pit, the boys loved seeing their counselors give it their best!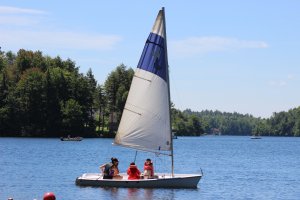 Tuesday was filled with firsts on the sports front. We participated in our first intercamp tennis tournament at Mah-kee-nac where we demonstrated awesome skills and came home placing in the singles. Tuesday night was Sports-a-Rama where our four teams: The Miami Broncos, The Northumbria Red Wolves, The Sussex Renegades, and The Stephens St. Bernards competed in intramural sports. The team names are designed as a hybrid of the two schools that the head coaches attend(ed). Tennis, soccer, softball, kickball, football, hockey, and basketball were all active and Athletic Director, Zach Miner, loved the energy on opening night of the Sports-a-rama season.
Wednesday was another typical day at camp followed by the first round of the Townsend Cup, a best out of three boy vs. girl game show night competition. It was an intense game of life-size Cranium and, while it was a very close match, the girls won in the end. We are looking forward to the next round in mid-July!
Thursday was our first rainy day at camp but, rest assured, nothing stopped us from having fun and being active. Noodle hockey, dodgeball, and all of our indoor activities filled the day for campers and staff. Thursday night was the annual Auction Night where campers were given Watitoh money and bid on items. Hosted by Dylan and Tatiana, some of the items were: Choose your own schedule, a campfire with s'mores, breakfast in bed by Britton and Drew, a sleepover in the Cooking Cottage, a play date with Becket, etc…Every bunk won something and we can't wait to start delivering.
Friday marked the most beautiful day of the week so far. The waterfront was in action and all of the land activities were back running after the rainy day. Friday night was our first Shabbat service and separate boys and girls camp activities. The girls had Watitoh Warriors (similar to the boys Superstars) and the boys played Hunger Games, an interactive activity.
Today was yet another gorgeous day on Center Lake! Campers couldn't wait to jump in Center Lake to cool off from their busy schedules. Tonight we got to showcase many of our camper talents at the annual Camper Talent Show! It's amazing to see these kids get up on stage in front of the entire camp to perform.
With an entire week of firsts, we couldn't be happier with how the campers and staff have settled into their summer home. As mentioned before, this week we introduced the first-ever Watitoh Salad Bar, renamed during Auction Night, "Big Dave's Garden of Eden." We are thrilled that our campers now have access to a salad bar at all of our lunches and dinners. So far it's been a huge hit! We are ready and looking ahead to next week with so many highlights: Photo Day, Red, White and Blue Day, The Court Jesters, Belly Flop and Hunt the Counselor to name a few. Keep enjoying those smiley campers in the daily photos!