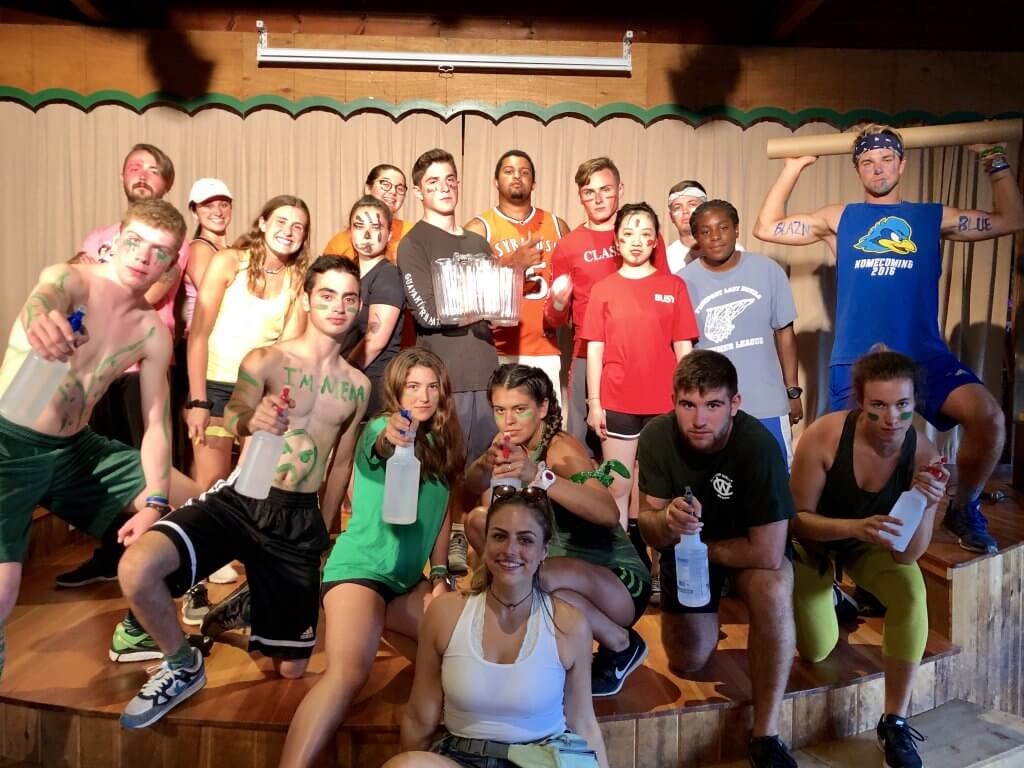 Week 5 went faster than a bolt of lightning!! It's hard to believe that a week can go by so fast! It was a wonderful week to welcome our 3 week campers. Even though we started with a few days of rain, the week ended with beautiful weather that Wahinta bestowed upon us!
Since we live in our own little camp bubble, we do crazy things here with our schedule. If you can believe it, Sunday was a Monday at Watitoh and Monday was a Sunday! That meant that Monday was a late sleep and special event day! In the morning, the girls did a Big Sister/Little Sister activity while the boys had a lake party in the rain. In the afternoon we did an all camp "Skit in a bag" where we paired up cabins mixed ages and they had to perform a skit based on items they collected. It was a hoot watching our Waiters and Debs and our TICS and Cadets!
Tuesday was a late sleep and a rainy morning followed by a clear afternoon and an awesome Campfire! We are so lucky to have such a talented community!
Wednesday was a classic "Watitoh day!" The Adventure Hobby spent much of the afternoon on a local hike while our 9th grade and 11th grade girls played in a tennis tournament at Lenox. Wednesday night was a highlight! The girls had MTV Night while the Boys did Hunt the Counselor!! It was epic!
Thursday was the ever popular trip to Boston. Upper Senior Boys and Girls and the TICS had a great day at the Boston Zoo, explored Quincy Market, and went on a Duck Tour! They loved their dinner at Pizzeria Uno before returning to camp. At the same time, our Waiters had their "day off" and created their own unique itinerary to spend the day. Thanks to our amazing Kitchen Staff, we offered al fresco dining for lunch and dinner so the waiters could have a break. Thursday night was Rainbow Games where campers ran all over camp searching for counselors dressed up in colors. The idea was to find all the colors and get a mark on their arm. But then, the Greenie Meanies were running around camp, wiping off the colors and forcing campers to start over!
Friday night was our rescheduled Sports-a-Rama and Bunk Challenges.
Saturday, we welcomed over 20 prospective campers for a very successful Dream Day! We can't wait to see some of them next summer! Saturday night was an overwhelming night as we watched so many of our awesome staff perform at the Staff Talent Show. Singing, dancing, Swedish fish catching, and more…we are lucky to have so many amazing talents!
Sunday was an awesome end to Week 5! A beautiful morning filled with swimming, Quidditch, and a TIC Scavenger Hunt followed by the awesome Carnival!! To top it off, the whole camp got to enjoy Costume Social! The Leadership team won the most creative all dressed up as Bosco Syrup—a camp favorite!
All week there has been mystery in the air with Color War and lots of Special Events looming. Fake breaks, strange happenings, and schedule changes have all added to the allure of what's to come! Stay tuned for the many exciting things ahead…Watitoh Gardens, Watitoh Derby (the rebranded Watitoh Downs), Project Morry, Campfires, and more. Who knows? Color War might break sometime too!!