The week after Visiting Day was filled with extraordinary activities, intercamps, trips, and evening programs! Campers were active and engaged, swimming, playing, and spending time with their bunkmates and friends!
Monday was an ordinary day at Watitoh with a huge number of Intercamps and an awesome Sports-a-Rama track meet. The team of organizers updated the line-up to include hurdles on the Oval and a Tether Ball Hammer throw during the field events. The updates to the track meet were a huge success!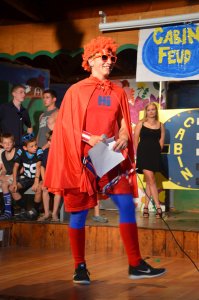 Tuesday night was the very popular second round of the Townsend Cup. The Boys vs. Girls Cabin Feud, hosted by camp favorite, Evan Stevenson, was a heated competition. You cannot even imagine the energy that radiated from the Social Hall! In an unbelievably close match up, Girls Camp took home the Townsend Cup AGAIN for 2019! We can't wait to see what happens next year!
Wednesday night separates were postponed due to the rain and the whole camp participated in a Watitoh favorite called Pageant. Bunks are paired in coed teams to choose two counselors and dress them up in a theme. Some of the favorites this year were: James and Boo from Monsters Inc., Steve Irwin and his friend, the Koala, Jake and Rachel Goodman playing each other, Woody and Little Bo Peep, Shark Boy and Lava Girl and Helen and Becket (the winners!)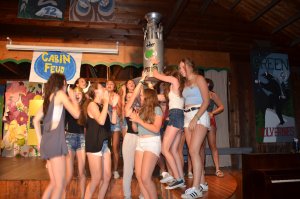 Thursday was a welcomed rainy morning at Watitoh and the first Annual Battle of the Bands!! In the same groups as the night before, campers and counselors made up a Lip Sync and were judged on participation, costume, creativity, and performance!! And what a performance it was! The winning team was Chic/Cher and Narragansett for their impression of a Bar Mitzvah service and celebration. It was quite a hora! We cannot forget about an amazing Berkshire Cup Regatta where Watitoh had an awesome turnout. Thursday night was our Sports-a-Rama Name that Tune where the Leicester Lords and Ladies took home the win.
Friday morning was an exciting day for our Chess Hobby! They competed in a tournament at Taconic and Elliot Kwon placed 2nd out of 60 participants! The team as a whole did awesome. That afternoon our Dance Hobby competed in an awesome competition at Lenox and performed beautifully. Back at camp. we experienced the start of a weekend-long heat wave. Friday night we hosted an awesome Beach Party with an all camp general swim and boating; limbo and games on the beach, and a Tiki bar serving punch and ice cream! It was a great way to cool off after the hot day!
Saturday was another hot one on campus. All of our specialty areas incorporated water into their programs, including arts and crafts!!! Imagine: Baby pools at tennis, water balloons at adventure, sprinklers at baseball, and water guns at arts and crafts. Saturday night was an all-camp favorite, Las Vegas Night and Dancing with the Staff. Poker, Roulette, Candy-Grams, Black Jack, the Marriage Booth and more filled the Social Hall. In the annual Dancing with the Staff, six separate pairs of staff and camper performed in front of the camp. It was Anabel and Josh who took 1st place with their performance of Time of My Life from Dirty Dancing!
Sunday was bittersweet as we said goodbye to our four week friends and welcomed our three week campers. Sunday night was another hot evening and another great night for a swim! Boys had slip n' slide fun followed by a general swim and the girls had a general swim followed by an intense belly flop contest between the TICS and staff. We are still waiting for a final announcement of who won!!
Our last three weeks are already in high gear and we are looking forward to a lot of great things this week: a campfire, MTV Night, Hunt the Counselor, Boston, Rainbow Games, and more!!! Keep looking at those photos to see what's happening everyday!