There is a saying in sleepaway camping that the days are long and the weeks are short! It couldn't be truer of Week 3. It was a week of busy activity, intercamps, and A LOT of SING practice. All in all, the weather was gorgeous and the smiles were constant!
Looking back all the way to last Sunday…The girls had British Empire Day. An amazing mini-Color War, Girls Camp is split into three teams compete in sports, a swim meet, and a track meet. Great Britain, led by Gigi Schmitt; Australia, led by Emma Lawrence; and Canada, led by Sophie Feldman all demonstrated great sportsmanship, comradery, and enthusiasm for their own team. In a close race, Canada came out on top! While the girls were busy with their traditional day, the Lower Camp Boys (older) played in a 3 on 3 basketball tournament and the Upper Camp Boys (younger) had NFL Day. Their afternoon was spent in their annual Sports-a-Rama Swim Meet.
Monday was a typical program day followed by the Sports-a-Rama Apache Relay. Every camper was assigned a certain role in the relay which ultimately ended with a TIC going down the slide and running to the beach! It was a close race but the Columbia Rams won the event!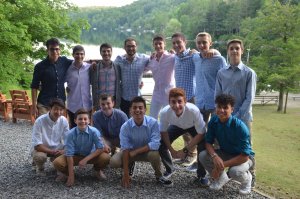 Tuesday was the annual Birthday Banquet! A much anticipated tradition, it is the night we celebrate the birthday of Camp Watitoh AND all of the campers and staff who do not have summer birthdays. We get slightly more dressedup, have a banquet style meal, and invite campers and staff to help us light the candles while we all sing "Happy Birthday to us!" The night ended with an amazing performance by everyone's favorite cover singer, Tom Carroll. Playing the Watitoh scene since 1991, he is a legend!
Wednesday was girls and boys separate evening activities. The boys played REBUS, a scavenger hunt meets logic puzzles. The girls had Gladiators, a counselor vs. camper competition of slip n' slide tug-o-war, musical chairs, gaga ball, and more!! For the 2nd year in a row, the counselors took the crown!
T
hursday was the coed swim meet at Camp Greylock where Watitoh placed 3rd. Thursday night the whole camp had SING practice in anticipation of the amazing performance on Friday night. We were so proud of all of our performers and overwhelmed by the commitment of our staff and Music Specialist, Nick Harwas, put into the experience.
Saturday was an amazing Visiting Day followed by an even more amazing ALL CAMP SHAVING CREAM FIGHT!!!

Today was a huge day on Boys Camp- Pan Am Day! Fighting for the win, Brazil (Charlie Flamm), Argentina (Ben Hecht), and Chile (Zack Filene) fought hard on the basketball court, in the hockey rink, on the football field, through an Apache, and a Bucket Brigade. Argentina brought home the Victory!
We are already looking ahead to Week 4 and what is in store! Tonight is anticipated Square Dance followed by the Townsend Cup Cabin Feud on Tuesday, Name that Tune Later in the Week and Las Vegas Night Saturday. So many intercamps and exciting events to look forward to!! Remember to check photos to see camp in action!