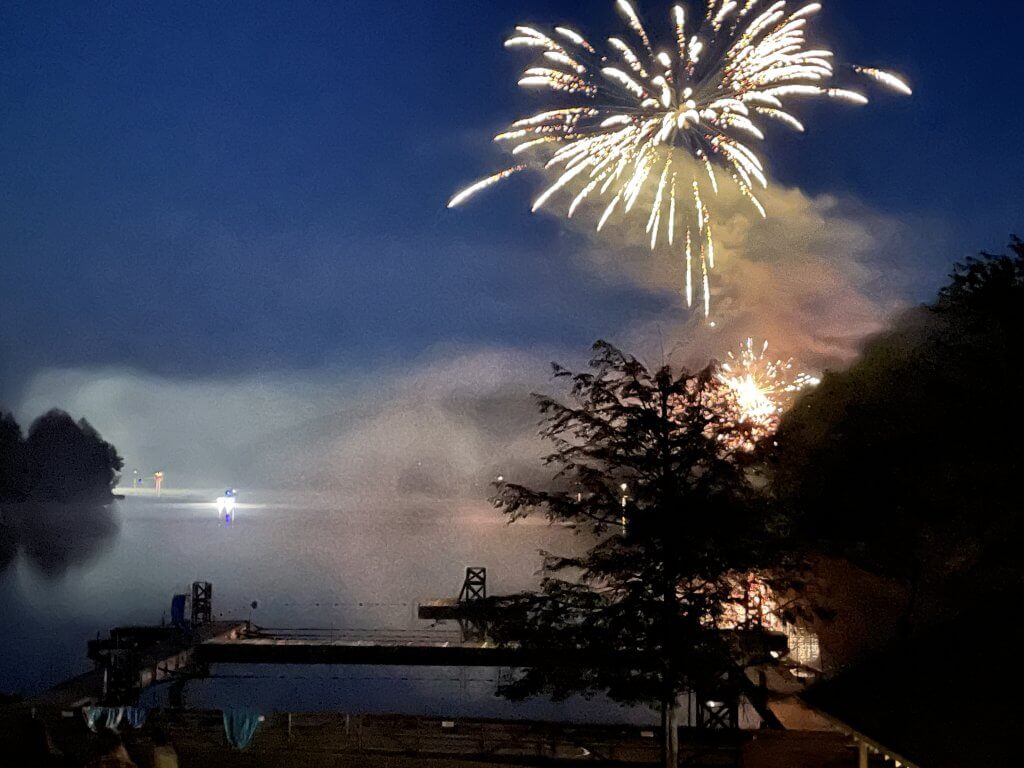 This week absolutely lived up to everything we all have been waiting for! We are so grateful to all of our families for their support and partnership in making our arrival day so seamless and easy. This summer kicked off with such great energy and enthusiasm!
On our first night of camp, we all gathered on Den Hill, in our pods, with our masks on, and had our traditional "Opening Campfire." It was full of performances by staff, campers, introductions, a bedtime story read by Britton and Drew (The Book with No Pictures) and ended with the entire camp singing "Friends" for the first time in almost two years. It was magical!
Sunday was a day full of activities, swim checks, and more! The day finished with separate Boys and Girls camp activities called "Hi Guy! And Hi Gal!" The boys were on Boys Court while the girls met around the campfire. Each team of counselors introduced their campers and then the campers made a skit or wrote a song to introduce the counselors. It was a great night getting to know everyone!
Monday and Tuesday were HOT! HOT! HOT!! Lots of swimming and hydration all around. Monday night was filled with fan favorite Evening Activities. The boys had Belly Flop! Congratulations to Zack Filene for winning two years in a row! The girls had Bunk Chase, one of the most fun, silliest, activities in all of camp. Running back and forth from their bunk, dressing up as different characters, acting out prompts, and presenting a bunk cheer, it is the perfect bunk bonding. Tuesday morning the girls met  their Big and Little Sisters. Tuesday night was Pageant! Coed age groups dressed up their counselo
rs as famous pairs and competed for the most creative, original, and best dressed!
Wednesday was the start to a rainy few days. But that didn't stop us from having a great time! Dodgeball, noodle hockey, indoor mini-tennis, A&C, gaga, and more filled our days. Our nights were spent doing Air Band, Skit-in-a-Bag, Auction Night, and we ended the week with a relaxing Movie Night!
Perhaps the most exciting moment of all was on Saturday afternoon when it was announced that our COVID tests were all NEGATIVE and we were now mask free outside!! An exciting dance party followed around the Flower Bed before afternoon activities resumed. Saturday night was the first Townsend Cup game show night competition between the boys and the girls' campuses'. They challenged each other to Cranium. Despite the entire camp bringing the spirit and the Social Hall shaking with cheering campers, the boys won putting them in the lead for this summer. Stay tuned for the next round of the Townsend Cup in the next few weeks!
Today was our first Sunday Special Event Day. The campers had a late sleep followed by separate Boys and Girls Camp morning programming. The girls played Capture the Flag and had a 4th of July Bunk Parade! The boys were introduced to their Big Brothers and Little Brothers and enjoyed time getting to know each other before general swim. The afternoon was Red, White, and Blue Day culminating with CHAOS, a TIC and Waiter Relay Race that is truly chaotic! Tonight was our first socials by age groups and a spectacular fireworks show on DenHill.
To say this has been an awesome week is an understatement! It has been magical beyond words and our whole Watitoh Family feels fortunate to be together on Center Lake. Stay tuned for more awesome events coming up next week and keep checking those photos for a glimpse into our incredible bubble.