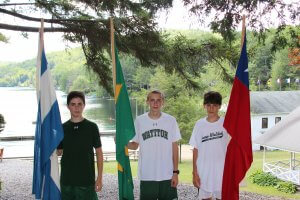 It was a fantastic week filled with busy programming, successful Intercamps, awesome evening programs and continuous friendship forging. Our Visiting Day weekend concluded with the infamous Pan Am Day on Boys Camp. Eric Biolos led Argentina, Scott Zarider led Brazil and Ethan Kohn led Chile to victory! It was an active day of sports, a Bucket Brigade, and an all-Boys Camp game of Battle Ball on the Oval.
On Monday, our Inters went on a tour of the Crane Paper Factory and learned how to make paper. Very cool! Evening activity was Sports-a-Rama followed by Hobby Selection and Bunk Challenges.
Tuesday was a busy day at camp…The Junior and Senior Boys traveled to Cooperstown and the Baseball Hall of Fame. Congratulations to Charlie Flamm for bringing home the most exotic keepsake (a boys camp tradition!) Our girls gymnastics team competed in a meet at Camp Danbee and had a great time! Tuesday night was historic…the girls camp took home the Townsend Cup in a very close and highly competitive game of Cabin Feud. Congratulations to the girls who have not had the trophy on their campus in a number of years!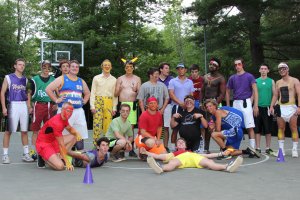 Wednesday was an exciting night of separate boys and girls camp activities. The girls had their annual Gladiators Night, w here campers and counselors compete in Shaving Cream Tug-of-war, Sumo Wrestling, and blind Newcomb! The boys introduced a new camp activity, bringing the game Pokemon-Go to life! Counselors dressed as all different Pokemon and hid all over camp. The Waiter-led color teams had to catch the Pokemon and battle other Pokemon at three designated locations.
Thursday was a normal program day and the popular Berkshire Cup Sailing Regatta held at Camp Lenox. Our sailors were amazing and placed 2nd for the second year in a row. Congratulations to Evan, Jake, Jeylin, and Cayden!
Friday was our biggest Intercamp day of the season and Watitoh participated in our first ever Girls Volleyball tournament (2nd place!) at Taconic and our first ever Archery tournament at Mah-kee-nac. Friday night was the Pageant…Boys and Girls Cabins paired up and chose two counselors to dress up in characters, answer questions, and perform on-stage. Congratulations to our TWO winners: Ailsa and Ethan who were dressed up like Smoove (General Counselor) and Cieran (Soccer Specialist) AND BGoody and Bianca who dressed as Princess Leia and Obi Wan Kenobi!
S
aturday our Arts and Crafts Hobby took a trip to the Clark Museum where they enjoyed getting to view the art they have been learning about all week! Saturday night was a summer highlight with Las Vegas Night taking over the Social Hall. Incredibly creative money was produced by Emily, with the likes of siblings Carly, Jake, and Rachel, the Tablesetters, Chrissy and Zach, the Bergs, Denny and Babs dressed as Dolly Parton and Elvis Presley, and our favorite yoga/overnight camping guru, River! We played games, got married (then divorced) and enjoyed a fantastic performance of Dancing with the Staff! Congrats to Denny and Abby for their winning performance.
Sunday was really a Monday…and bittersweet it was. In the morning we said goodbye to our four week friends and in the afternoon we welcomed our three week campers! It was a day of transition that resulted in a great night for Sports-a-rama and new friendships being forged. We have a wonderful group of campers who have joined us for the remaining three weeks of camp and so much to look forward to!
We're so looking forward to the next three weeks of camp and all that is in store!