It's hard to believe that our first week of camp is almost complete. As we begin the weekend, it is nice to reflect on what a wonderful start to the 2017 season we have had!
It's hard to believe that our first week of camp is almost complete. As we begin the weekend, it is nice to reflect on what a wonderful start to the 2017 season we have had!
It all started with our fantastic Opening Day…while rain hit Becket in the morning, by the time the cars and buses arrived, the blue skies appeared and the sun was shining! Unpacking, tours of camp, infirmary checks, ice cream snacks, and a first swim filled the afternoon activities. Opening Campfire reminded us of last year's theater performances, SING songs, and introductions to this year's specialty staff. The energy in the Social Hall was memorable!
Sunday was a mix of land sports, arts and crafts, adventure, waterfront, and more…The campers took their "tag test" at the lake and participated in get-to-know-you games, ice breakers, SpikeBall, and Baggo. All in all, it was a day of getting settled and organized. The evening was "Hi Guy and Hi Gal," an opportunity for counselors to introduce their campers and for the campers to VERY CREATIVELY introduce their counselors. Skits, songs, and poems were all performed!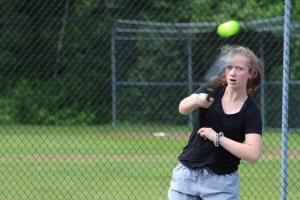 Monday was our first day of normal schedule! Basketball! Nature! Soccer! Tennis! Ceramics! Waterfront Instruction and General Swims! It was a blast! Everyone loved getting into routine and learning more about the specialists throughout the day. Monday night was separate Boys and Girls Camp Activities: Bunk Chase and Superstars! Girls were running back and forth from their cabin to the gym, acting out skits, performing dance moves, and attempting hilarious impressions! The boys were having as much fun, cheering their counselors on in all sorts of challenges and taking wages on who would win each wacky event! Needless to say, cabin bonding was at its height.
Tuesday marked the beginning of our golf program hosted at The Cranwell Resort in Lenox. A group of campers attend bi-weekly lessons. In an attempt to host our first Sports-a-Rama, we announced the teams: Sandringham Muleriders, Ohio Nittany Lions, Madrid Greyhounds, and Limerick Knights. The team names are a combination of the college/university names and the mascots of the staff head coaches. Unfortunately, the weather did not cooperate and, after the line-up, we experienced rainy weather and had to postpone the activity until Wednesday night. But have no fear, we were prepared! Thanks to our amazing Group Leader team, Louise and Dewey hosted our first Townsend Cup Game Night of Cranium!
The Townsend Cup is a Boys vs. Girls Camp competition that includes one night of Cranium, one night of Cabin Feud and a third game to be determined. It is best out of three and the Boys Camp has won the past few years. Low and behold, the Girls Camp won the first round on Tuesday night in a nail biting finish! And a special shout out to the Boys Camp counselors for misspelling "TERIYAKI" backwards!
Wednesday and Thursday were both full days of Living the Dream at Camp Watitoh! Waterfront instruction was well underway and the campers were participating in a great day of activities. Wednesday evening, we were able to get out on the ball fields for Sports-a-Rama and feel the healthy competition in the air! Basketball, soccer, tennis, volleyball, hockey, football and more…Every field and court were used for the opening night of this camp tradition. Thursday evening was another Boys and Girls Separate activity: Boys played "The Hunger Games" and the girls had "Watitoh Warriors!"
Thursday night was our first overnight at the Watitoh campsite! The girls of Algonquin had an amazing night, making s'mores, playing campfire games, and sleeping in their tents. They even convinced River, our Orienteering Counselor, to have s'mores for breakfast!
Friday night we had our annual Auction Night. Hosted by counselors Denny and Babs (dressed as Elvis and Dolly Parton), campers and staff had the opportunity to "buy" items like, "Breakfast in Bed by Britton and Drew," "Choose your own schedule for the day," "A sleepover in the Cooking Cottage," and more…You'll be happy to know that the Waiters won the right to "rename an area of camp" and they have chosen to call the Mess Hall, "Menzyk's Meat House" after our veteran chef of 30 years, Joe Menzyk. A shout out to the 2017 TICS for their awesome evening activity signs this week!
Tonight was a very special Camper Talent Show hosted by TIC2s, Ava and Alexis! From the youngest to the oldest, campers shared their many talents! Dances, skits, gymnastics, acapella songs, and musical talent were all showcased on the Watitoh stage. We have an incredibly talented camp community!
Today marks the end of the first week of camp. We are settled into our cabins, enjoying our bunkmates, and acclimated to the routine of camp life. We're looking forward to the week ahead with our Sports-a-Rama Apache Relay, our Annual Red, White, and Blue Day and the Court Jesters for the 4th of July, Hunt the Counselor for Girls and Belly Flop for Boys, and our Camp Fire Service!
Don't forget to login to myWatitoh each night to see the photos from the day!