Most of us have either read the book, Wondery R.J. Palacio, or more recently, saw the movie by the same name. For those of you who haven't, here is a quick synopsis:
August Pullman is a fifth-grade boy with a severe facial difference. His loving parents and sister have shielded him from many outside influences before WONDER begins; he's been homeschooled up until that point, for example. But at the start of the book, his mother has decided that it's time for Auggie to brave a real school experience. Auggie is upset and afraid to face the kids' reactions to his appearance, but there's also part of him that wants to do "normal" things. The director of his new school, Mr. Tushman, introduces Auggie to a small group of students before school starts, thinking this will help ease the transition. Whereas some of the students Auggie meets are accepting and kind, others are a bit put off by him, and still others are downright cruel. The novel follows Auggie's first year of middle school from beginning to end. It's a year in which Auggie experiences the best and the worst of human nature and a year of tremendous emotional growth for him.
Auggie's story, while unique to him, is sadly, something that many boys and girls experience at school, at home, and at camp. At Watitoh, we are a community that emphasizes treating each other with respect, building self-esteem, and learning how to talk face-to-face when friendship and other relationship challenges stand in our way. While at camp, we expect that campers are inclusive, welcoming, and respectful and, during the off-season, we are hopeful that these same values resonate with our campers and staff during winter reunions, get-togethers, Bar/Bat Mitzvahs, etc…We live in a world where in-person contact is so limited and we have to be aware of our actions, both in front of and behind screens since so much of this "mean" behavior is often done through text, social media, and chat groups.
#choosekind is the campaign that has stemmed from Auggie's story. The movement encourages people to create and spread more kindness in the world. The movement hopes to build a positive and inspirational social change across the world, inspiring people to practice random acts of kindness every day.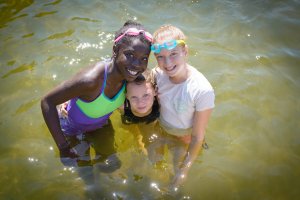 At Watitoh, we pledge that our community will practice #choosekind every day at camp. Campers and staff alike will be held to a standard of behavior where each day they will be asked to perform random acts of kindness and live by the cardinal rule of "If you have nothing nice to say, don't say it at all." We have an opportunity in our environment to #choosekind and our hope is that this translates into their daily routine in the summer season and throughout the year.